AI Op School (AI At School) wins Vlaanderen Digitaal Award
Last Wednesday, our project AI At School won the Flanders Digital Award.
---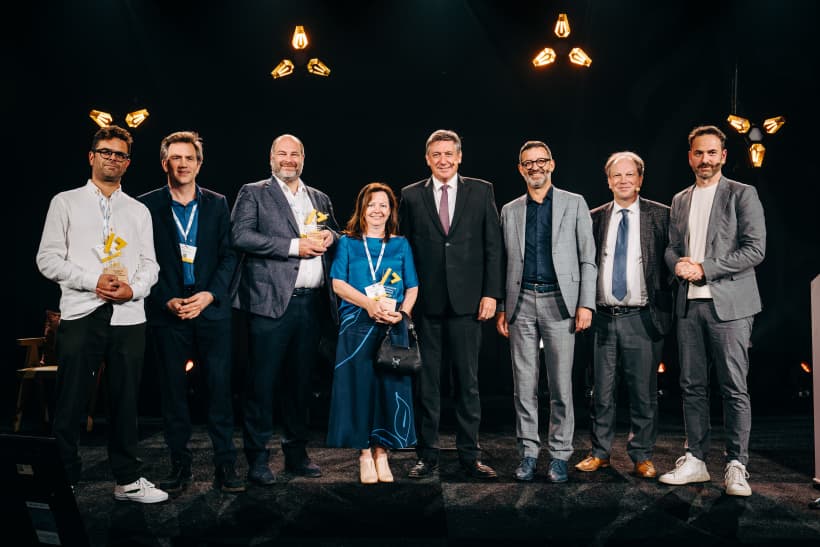 At the nocturne of the Meeting Day, Flanders Digital (Vlaanderen Digitaal), the three Flanders Digital Awards were presented. Our project AI Op School (AI At School), which we developed closely together with the non-profit organisation Dwengo, won the award for the Most Inclusive Project. The jury was impressed by how the technology of the year (AI) was translated into accessible educational content.
Artificial intelligence is already everywhere, and it will only increase. Therefore, we believe that everyone should understand the workings of AI. Moreover, insights into AI systems have become a necessity in the context of media literacy and civic engagement. And that for every citizen, especially the teachers and students in our schools.
We often see that, in practice, training "for everyone" sticks to using AI tools. We believe that this is not enough, but that only sufficient knowledge of the algorithms behind AI systems allows us to deal with AI systems consciously. Therefore, we developed an AI curriculum: AI At School, also responding to the new minimum objectives in secondary school.
Based on different themes, we want to appeal to the widest possible audience. Through the schools, we try to reach all secondary school pupils, regardless of their field of study and home situation.
By offering activities with and without a computer, we ensure accessibility: there is something for everyone and it is feasible for everyone.
The curriculum is available for free on the Dwengo website. Our learning line can also be used for lifelong learning, by any individual or any organization. For those who do not have a computer, the computers in the local library offer a solution.